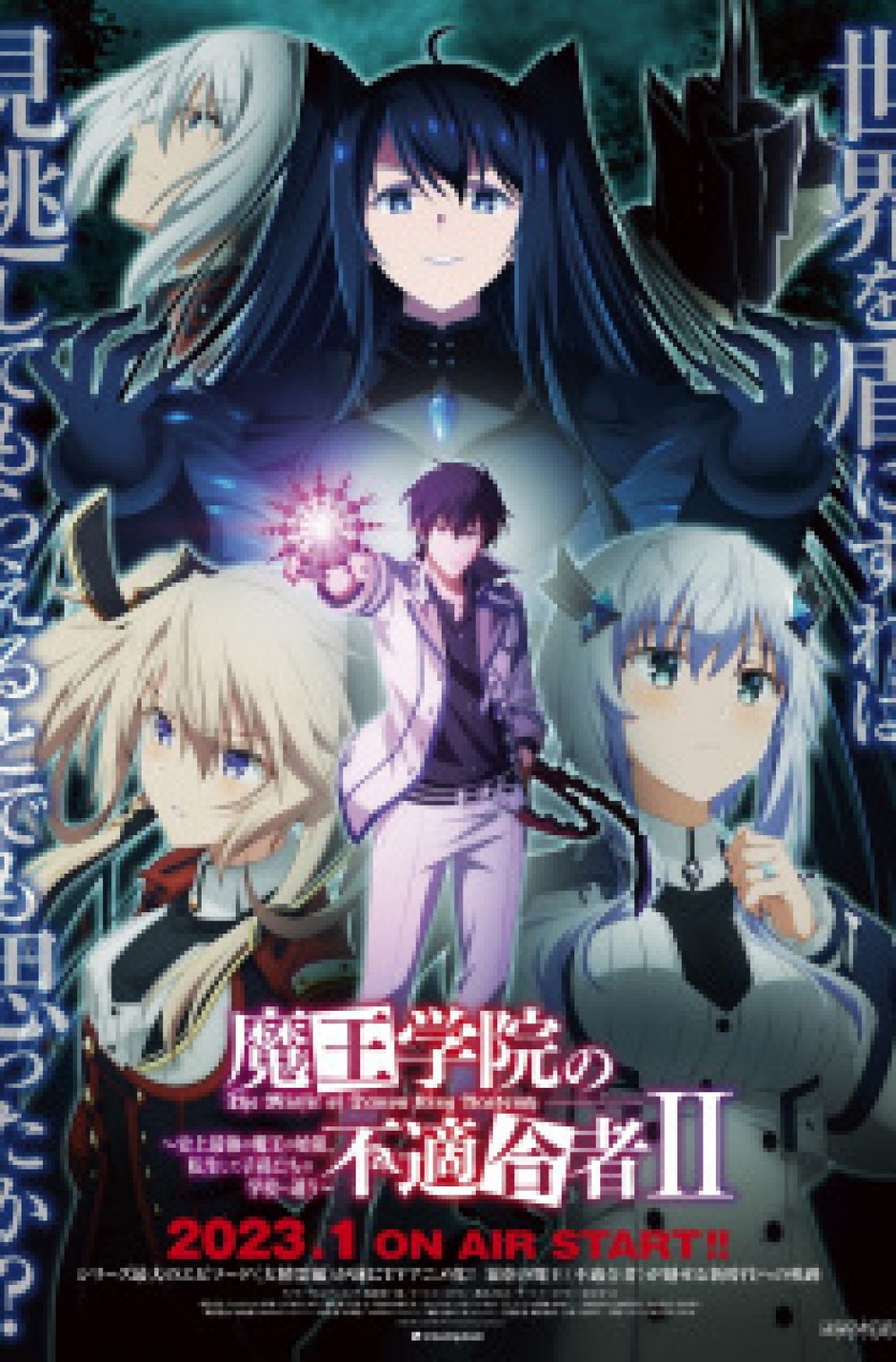 The Misfit of Demon King Academy Season 2 – Maou Gakuin no Futekigousha Shijou Saikyou no Maou no Shiso, Tensei shite Shison-tachi no Gakkou e Kayou 2
The Misfit of Demon King Academy 2 , Maou Gakuin no Futekigousha: Shijou Saikyou no Maou no Shiso, Tensei shite Shison-tachi no Gakkou e Kayou 2nd Season, The Misfit of Demon King Academy 2nd Season , Maou Gakuin no Futekigousha: Shijou Saikyou no Maou no Shiso, Tensei shite Shison-tachi no Gakkou e Kayou II , The Misfit of Demon King Academy II , 魔王学院の不適合者 ~史上最強の魔王の始祖、転生して子孫たちの学校へ通う~ II
Summary
Second season of Maou Gakuin no Futekigousha: Shijou Saikyou no Maou no Shiso, Tensei shite Shison-tachi no Gakkou e Kayou.
Anos, who has prevented the war between demons and humans, is confronted by a new "Child of God" who destroys the Demon King of Tyranny. The "misfit" who defies all forms of unreasonableness, enters a new battle. "After being reincarnated in this peaceful age, I have learned to take it easy."
The official website previously announced that Tatsuhisa Suzuki won't be returning as Anos. Replacing him is Yuichiro Umehara (Goblin Slayer, Seiya, Courier). The Misfit of Demon King Academy is based on a light novel written by Shu and illustrated by Yoshinori Shizuma.
Related Anime
Prequel: The Misfit of Demon King Academy
Tags: The Misfit of Demon King Academy Season 2 – Maou Gakuin no Futekigousha Shijou Saikyou no Maou no Shiso, Tensei shite Shison-tachi no Gakkou e Kayou 2 anime, Watch The Misfit of Demon King Academy Season 2 – Maou Gakuin no Futekigousha Shijou Saikyou no Maou no Shiso, Tensei shite Shison-tachi no Gakkou e Kayou 2, Watch The Misfit of Demon King Academy Season 2 – Maou Gakuin no Futekigousha Shijou Saikyou no Maou no Shiso, Tensei shite Shison-tachi no Gakkou e Kayou 2 Online, Watch The Misfit of Demon King Academy Season 2 – Maou Gakuin no Futekigousha Shijou Saikyou no Maou no Shiso, Tensei shite Shison-tachi no Gakkou e Kayou 2 English Sub, Download The Misfit of Demon King Academy Season 2 – Maou Gakuin no Futekigousha Shijou Saikyou no Maou no Shiso, Tensei shite Shison-tachi no Gakkou e Kayou 2 English Sub, Stream The Misfit of Demon King Academy Season 2 – Maou Gakuin no Futekigousha Shijou Saikyou no Maou no Shiso, Tensei shite Shison-tachi no Gakkou e Kayou 2, The Misfit of Demon King Academy Season 2 – Maou Gakuin no Futekigousha Shijou Saikyou no Maou no Shiso, Tensei shite Shison-tachi no Gakkou e Kayou 2 English Sub, The Misfit of Demon King Academy Season 2 – Maou Gakuin no Futekigousha Shijou Saikyou no Maou no Shiso, Tensei shite Shison-tachi no Gakkou e Kayou 2 Episode 1 English Sub, The Misfit of Demon King Academy Season 2 – Maou Gakuin no Futekigousha Shijou Saikyou no Maou no Shiso, Tensei shite Shison-tachi no Gakkou e Kayou 2 Anime Free English Sub, The Misfit of Demon King Academy Season 2 – Maou Gakuin no Futekigousha Shijou Saikyou no Maou no Shiso, Tensei shite Shison-tachi no Gakkou e Kayou 2 Ep 1 English Sub, The Misfit of Demon King Academy Season 2 – Maou Gakuin no Futekigousha Shijou Saikyou no Maou no Shiso, Tensei shite Shison-tachi no Gakkou e Kayou 2 Ep 2 English Sub, The Misfit of Demon King Academy Season 2 – Maou Gakuin no Futekigousha Shijou Saikyou no Maou no Shiso, Tensei shite Shison-tachi no Gakkou e Kayou 2 Episode 2 English Sub, The Misfit of Demon King Academy Season 2 – Maou Gakuin no Futekigousha Shijou Saikyou no Maou no Shiso, Tensei shite Shison-tachi no Gakkou e Kayou 2 Bluray English Sub, The Misfit of Demon King Academy Season 2 – Maou Gakuin no Futekigousha Shijou Saikyou no Maou no Shiso, Tensei shite Shison-tachi no Gakkou e Kayou 2 BD English Sub