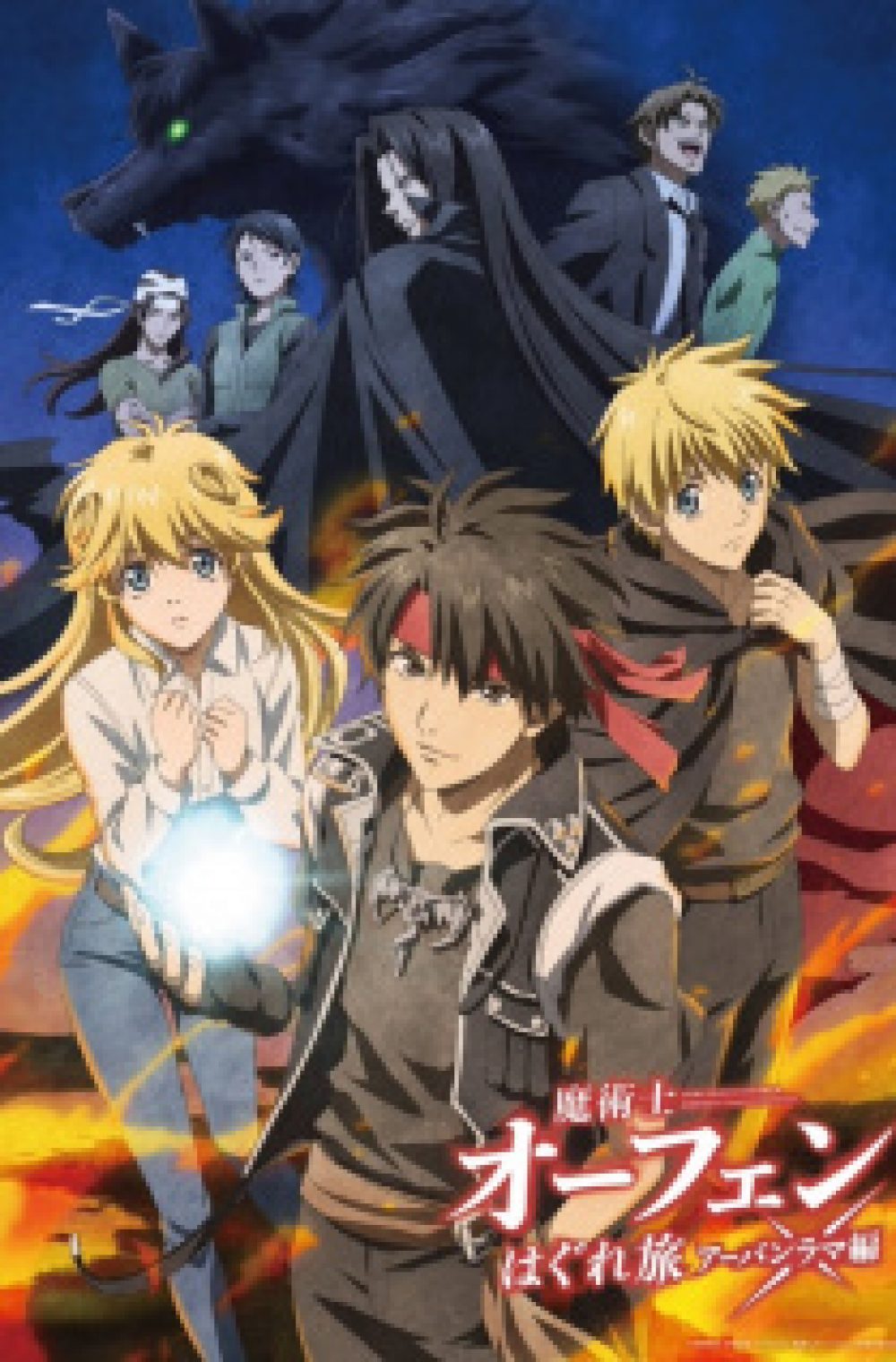 Majutsushi Orphen Hagure Tabi S3 – Majutsushi Orphen Hagure Tabi S3 – Sorcerous Stabber Orphen -Chaos in Urbanrama
Majutsushi Orphen Hagure Tabi Urbanrama-hen , Sorcerous Stabber Orphen -Chaos in Urbanrama- , Majutsushi Orphen Hagure Tabi 3rd Season, Sorcerous Stabber Orphen 3rd Season , 魔術士オーフェンはぐれ旅 アーバンラマ編
Summary
Third season of Majutsushi Orphen Hagure Tabi.
Episode 1 and 2 were previewed at a screening at Shinjuku Wald 9, Tokyo on January 8, 2023. Regular broadcasting began on January 18, 2023.
Orphen is a Sorcerer drop-out from the prestigious Tower of Fangs. His journey to save Azalie, a girl he looked up to like a sister, has brought him to the bustling city of Totokanta. Here they are reunited for the first time in five years. But what is the truth behind her monstrous transformation, and just what secrets lurk behind the Sword of Baldanders…?
Related Anime
Prequel: Majutsushi Orphen Hagure Tabi Season 2
Tags: Majutsushi Orphen Hagure Tabi S3 – Majutsushi Orphen Hagure Tabi S3 – Sorcerous Stabber Orphen -Chaos in Urbanrama anime, Watch Majutsushi Orphen Hagure Tabi S3 – Majutsushi Orphen Hagure Tabi S3 – Sorcerous Stabber Orphen -Chaos in Urbanrama, Watch Majutsushi Orphen Hagure Tabi S3 – Majutsushi Orphen Hagure Tabi S3 – Sorcerous Stabber Orphen -Chaos in Urbanrama Online, Watch Majutsushi Orphen Hagure Tabi S3 – Majutsushi Orphen Hagure Tabi S3 – Sorcerous Stabber Orphen -Chaos in Urbanrama English Sub, Download Majutsushi Orphen Hagure Tabi S3 – Majutsushi Orphen Hagure Tabi S3 – Sorcerous Stabber Orphen -Chaos in Urbanrama English Sub, Stream Majutsushi Orphen Hagure Tabi S3 – Majutsushi Orphen Hagure Tabi S3 – Sorcerous Stabber Orphen -Chaos in Urbanrama, Majutsushi Orphen Hagure Tabi S3 – Majutsushi Orphen Hagure Tabi S3 – Sorcerous Stabber Orphen -Chaos in Urbanrama English Sub, Majutsushi Orphen Hagure Tabi S3 – Majutsushi Orphen Hagure Tabi S3 – Sorcerous Stabber Orphen -Chaos in Urbanrama Episode 1 English Sub, Majutsushi Orphen Hagure Tabi S3 – Majutsushi Orphen Hagure Tabi S3 – Sorcerous Stabber Orphen -Chaos in Urbanrama Anime Free English Sub, Majutsushi Orphen Hagure Tabi S3 – Majutsushi Orphen Hagure Tabi S3 – Sorcerous Stabber Orphen -Chaos in Urbanrama Ep 1 English Sub, Majutsushi Orphen Hagure Tabi S3 – Majutsushi Orphen Hagure Tabi S3 – Sorcerous Stabber Orphen -Chaos in Urbanrama Ep 2 English Sub, Majutsushi Orphen Hagure Tabi S3 – Majutsushi Orphen Hagure Tabi S3 – Sorcerous Stabber Orphen -Chaos in Urbanrama Episode 2 English Sub, Majutsushi Orphen Hagure Tabi S3 – Majutsushi Orphen Hagure Tabi S3 – Sorcerous Stabber Orphen -Chaos in Urbanrama Bluray English Sub, Majutsushi Orphen Hagure Tabi S3 – Majutsushi Orphen Hagure Tabi S3 – Sorcerous Stabber Orphen -Chaos in Urbanrama BD English Sub