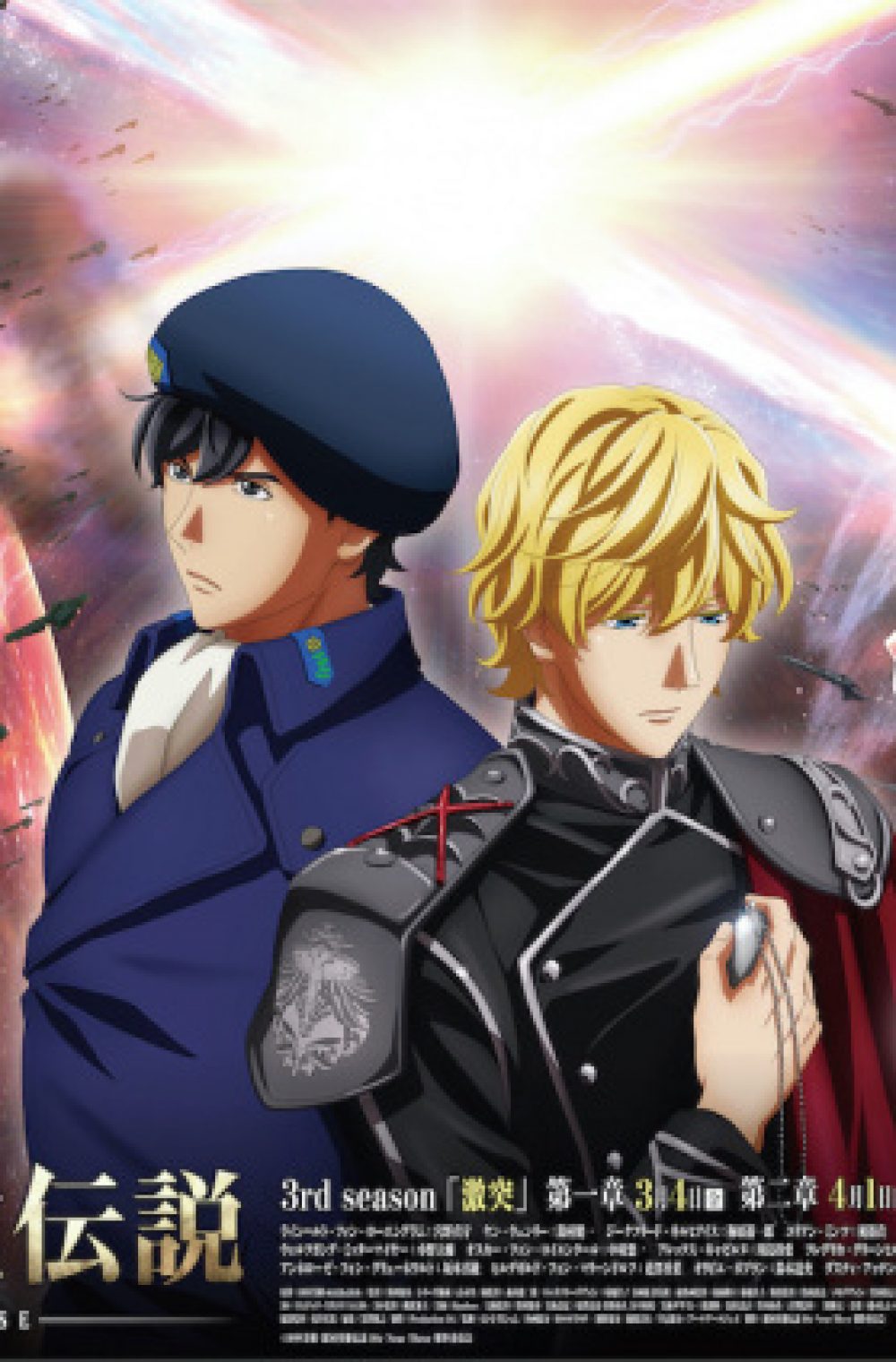 Summary
Continuation of the Ginga Eiyuu Densetsu: Die Neue These series.
In the Imperial Year 488 (Year 797 of the Galactic Calendar), Reinhard von Lohengramm fought against the High Nobles and rose to become the new Kaiser of the Galactic Empire. But the loss of his closest friend Kircheis allowed a depression to bloom in his heart. At around the same time, Yang Wen-li ended the civil war between the Free Planets Alliance and the National Salvation Military Council. However, power-hungry politicians in the Alliance government are becoming more and more wary of Yang.
The following year sees the Empire intending to retake Iserlohn Fortress, lauded for its strategic location and impregnable defense. Admiral Kempff leads his men, with an overwhelming advantage. Thus begins a battle like never before.
Related Anime
Prequel: Ginga Eiyuu Densetsu: Die Neue These – Seiran
Tags: The Legend of the Galactic Heroes The New Thesis Season 3 – Clash anime, Watch The Legend of the Galactic Heroes The New Thesis Season 3 – Clash, Watch The Legend of the Galactic Heroes The New Thesis Season 3 – Clash Online, Watch The Legend of the Galactic Heroes The New Thesis Season 3 – Clash English Sub, Download The Legend of the Galactic Heroes The New Thesis Season 3 – Clash English Sub, Stream The Legend of the Galactic Heroes The New Thesis Season 3 – Clash, The Legend of the Galactic Heroes The New Thesis Season 3 – Clash English Sub, The Legend of the Galactic Heroes The New Thesis Season 3 – Clash Episode 1 English Sub, The Legend of the Galactic Heroes The New Thesis Season 3 – Clash Anime Free English Sub, The Legend of the Galactic Heroes The New Thesis Season 3 – Clash Ep 1 English Sub, The Legend of the Galactic Heroes The New Thesis Season 3 – Clash Ep 2 English Sub, The Legend of the Galactic Heroes The New Thesis Season 3 – Clash Episode 2 English Sub, The Legend of the Galactic Heroes The New Thesis Season 3 – Clash Bluray English Sub, The Legend of the Galactic Heroes The New Thesis Season 3 – Clash BD English Sub