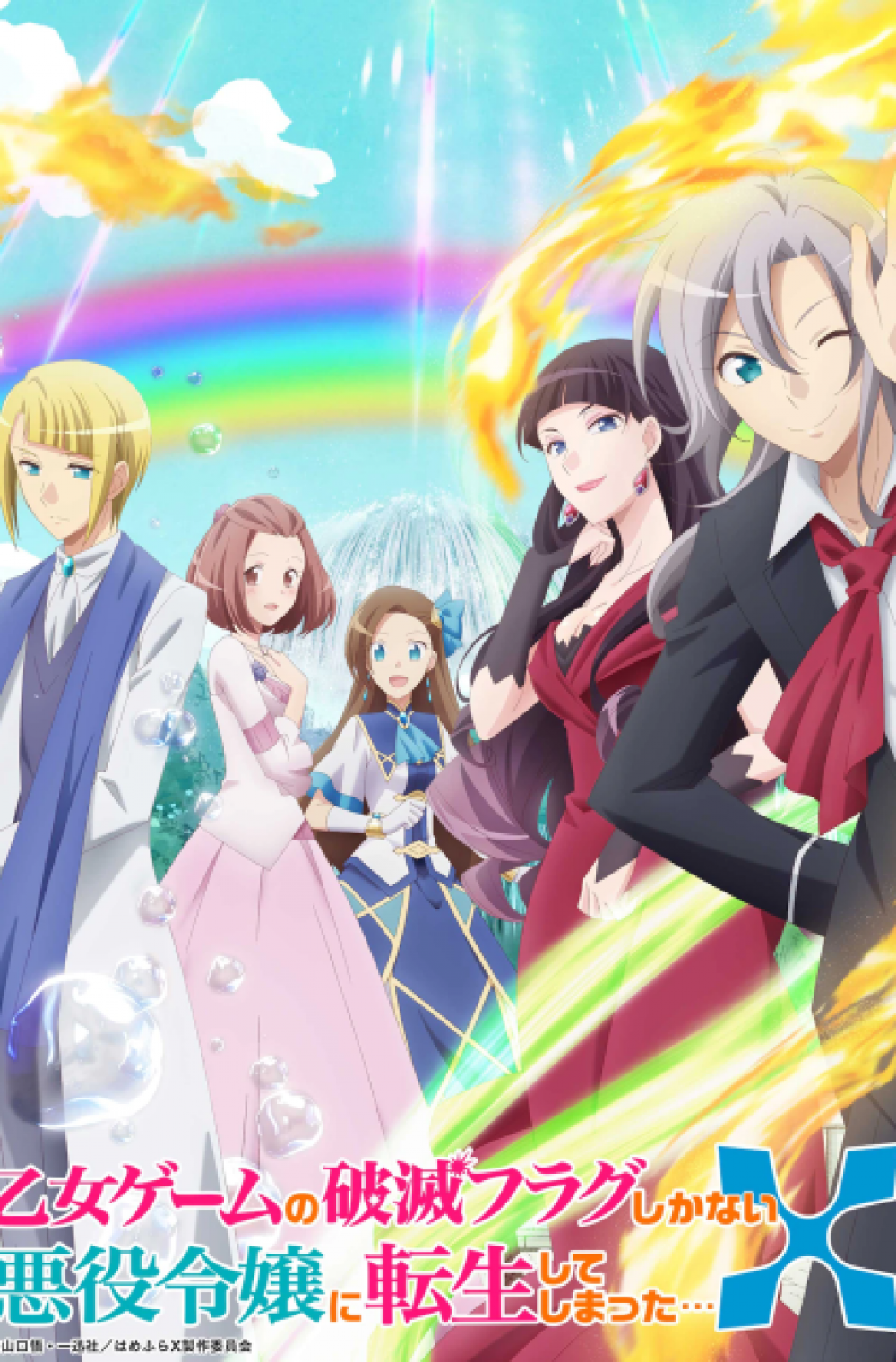 Hamefura Season 2 – Otome Game no Hametsu Flag shika Nai Akuyaku Reijou ni Tensei shiteshimatta X + OVA
My Next Life as a Villainess All Routes Lead to Doom X , Otome Game no Hametsu Flag shika Nai Akuyaku Reijou ni Tensei shiteshimatta… X , Hamefura 2 , Hamefura S2 , 乙女ゲームの破滅フラグしかない悪役令嬢に転生してしまった…X
Summary
Included special OVA released on New Year.
The second season of Otome Game no Hametsu Flag shika Nai Akuyaku Reijou ni Tensei shiteshimatta….
In Season 2, Catalina Claes, the Duke's daughter, regains her memories from her previous life. She lands up in the world of  Otome game, "Fortune Lover." She is now a villain daughter whose aim is to become an obstacle in the main character's love life. Without wanting to be a part of her surroundings she yet has to play the role of the villain. She takes the strong oath in her heart to not be dead. But will Catalina will avoid her life crisis and the misunderstandings?
Related Anime
Prequel: Otome Game no Hametsu Flag shika Nai Akuyaku Reijou ni Tensei shiteshimatta…
Tags:  Hamefura Season 2 – Otome Game no Hametsu Flag shika Nai Akuyaku Reijou ni Tensei shiteshimatta X anime, Watch Hamefura Season 2 – Otome Game no Hametsu Flag shika Nai Akuyaku Reijou ni Tensei shiteshimatta X, Watch Hamefura Season 2 – Otome Game no Hametsu Flag shika Nai Akuyaku Reijou ni Tensei shiteshimatta X Online, Watch Hamefura Season 2 – Otome Game no Hametsu Flag shika Nai Akuyaku Reijou ni Tensei shiteshimatta X English Sub, Download Hamefura Season 2 – Otome Game no Hametsu Flag shika Nai Akuyaku Reijou ni Tensei shiteshimatta X English Sub, Stream Hamefura Season 2 – Otome Game no Hametsu Flag shika Nai Akuyaku Reijou ni Tensei shiteshimatta X, Hamefura Season 2 – Otome Game no Hametsu Flag shika Nai Akuyaku Reijou ni Tensei shiteshimatta X English Sub, Hamefura Season 2 – Otome Game no Hametsu Flag shika Nai Akuyaku Reijou ni Tensei shiteshimatta X Episode 1 English Sub, Hamefura Season 2 – Otome Game no Hametsu Flag shika Nai Akuyaku Reijou ni Tensei shiteshimatta X Anime Free English Sub, Hamefura Season 2 – Otome Game no Hametsu Flag shika Nai Akuyaku Reijou ni Tensei shiteshimatta X Ep 1 English Sub, Hamefura Season 2 – Otome Game no Hametsu Flag shika Nai Akuyaku Reijou ni Tensei shiteshimatta X Ep 2 English Sub, Hamefura Season 2 – Otome Game no Hametsu Flag shika Nai Akuyaku Reijou ni Tensei shiteshimatta X Episode 2 English Sub, Watch Hamefura Season 2 – Otome Game no Hametsu Flag shika Nai Akuyaku Reijou ni Tensei shiteshimatta X anime,