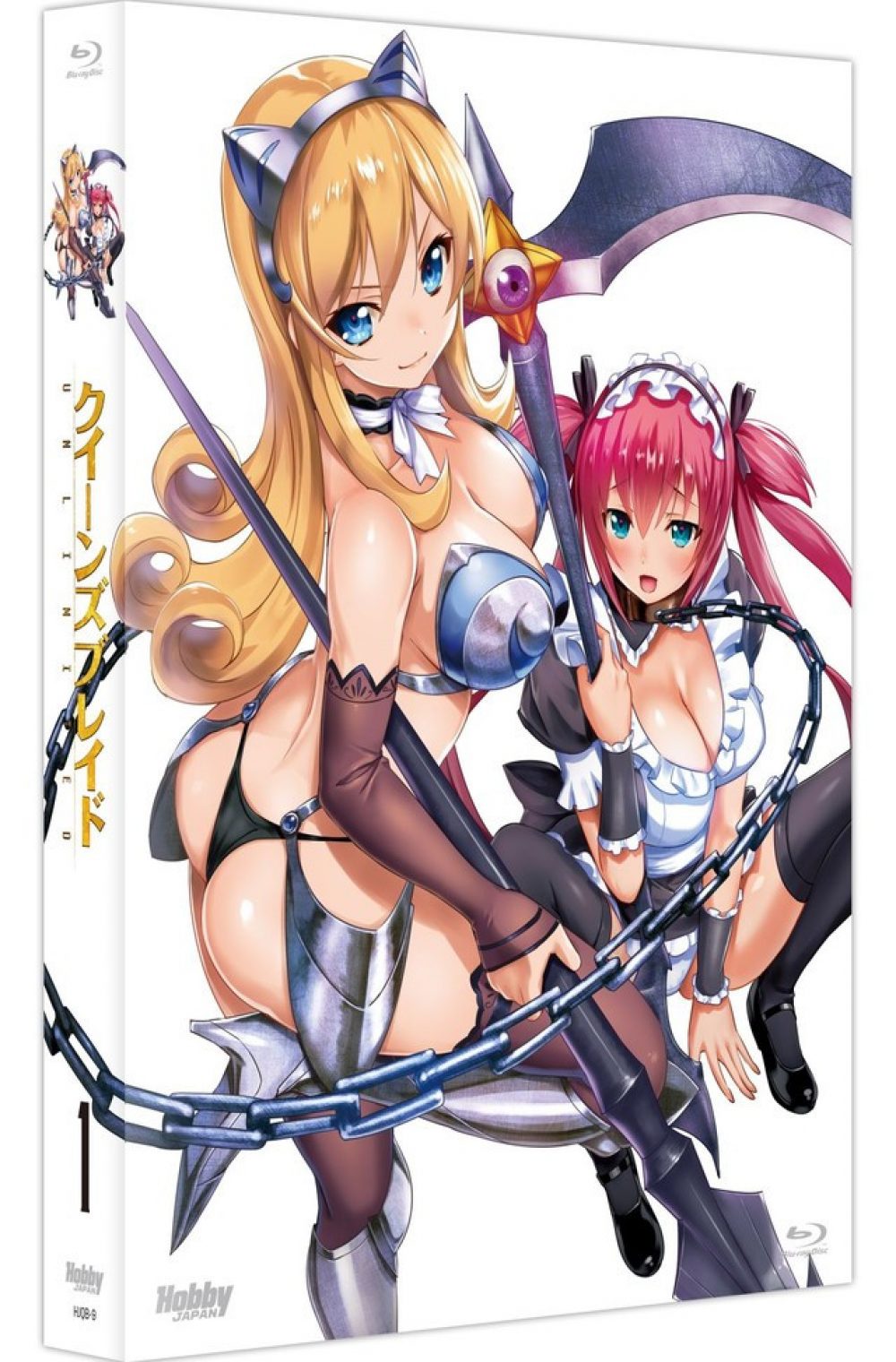 Summary
Queen's Blade Unlimited is a reboot of the Queen's Blade anime series, featuring revamped character designs, and a new storyline.
In the story, beautiful warrior Elina (Kaori Mizuhashi) fights with AiRI (Kanae Itō) over an amnesiac boy named Michel. The tagline for the new project is, "More strongly, more violently, reboot!" According to Miyagomono-ya Hans, Queen's Blade Unlimited returns to the origin nine years ago, while simultaneously depicting a never-before-seen Queen's Blade world.
Queen's Blade (Japanese: クイーンズブレイド Hepburn: Kuīnzu Bureido) is a series of visual combat books published by Hobby Japan based on the licensed works from Firelight Game Company's Lost Worlds. First published in 2005, it features erotic and sexually suggestive depictions of an exclusively female cast of characters. (There is particular emphasis on the large, jiggling breasts, erect nipples, hourglass figures and ample buttocks of many of the contestants.) The overall plot of the game revolves around a tournament called the Queen's Blade, which is held once every four years to determine a Queen.
Since its original release, this title has evolved into a media franchise, spanning four manga adaptations, three anime adaptations, three light novels, and a video game adaptation. This title was followed by a sequel Queen's Blade Rebellion (クイーンズブレイド リベリオン Kuīnzu Bureido Riberion), featuring all-new characters as well as remakes of previous characters, and a supplement called Queen's Gate (クイーンズゲイト Kuīnzu Geito), featuring licensed characters from other games and series. In turn, Queen's Blade Rebellion will be followed by Queen's Blade Grimoire (クイーンズブレイド グリムワール Kuīnzu Bureido Gurimuwāru), a new series featuring a different story, with more details still to come. Figures of the characters made by various manufacturers, such as Kaiyodo with their Revoltech series, have also been produced along with several memorabilia. A new project including a new anime series featuring new characters in an original story has been announced under the name of Queen's Blade Unlimited (クイーンズブレイド UNLIMITED).[2][3]
Related Anime
Prequel: Queen's Blade: Rebellion
Tags: Queen's Blade Unlimited Uncensored anime, Watch Queen's Blade Unlimited Uncensored, Watch Queen's Blade Unlimited Uncensored Online, Watch Queen's Blade Unlimited Uncensored English Sub, Download Queen's Blade Unlimited Uncensored English Sub, Stream Queen's Blade Unlimited Uncensored, Queen's Blade Unlimited Uncensored English Sub, Queen's Blade Unlimited Uncensored Episode 1 English Sub, Queen's Blade Unlimited Uncensored Anime Free English Sub, Queen's Blade Unlimited Uncensored Ep 1 English Sub, Queen Blade Unlimited Uncensored anime, Watch Queen Blade Unlimited Uncensored, Watch Queen Blade Unlimited Uncensored Online, Watch Queen Blade Unlimited Uncensored English Sub, Download Queen Blade Unlimited Uncensored English Sub, Stream Queen Blade Unlimited Uncensored, Queen Blade Unlimited Uncensored English Sub, Queen Blade Unlimited Uncensored Episode 1 English Sub, Queen Blade Unlimited Uncensored Anime Free English Sub, Queen Blade Unlimited Uncensored Ep 1 English Sub,