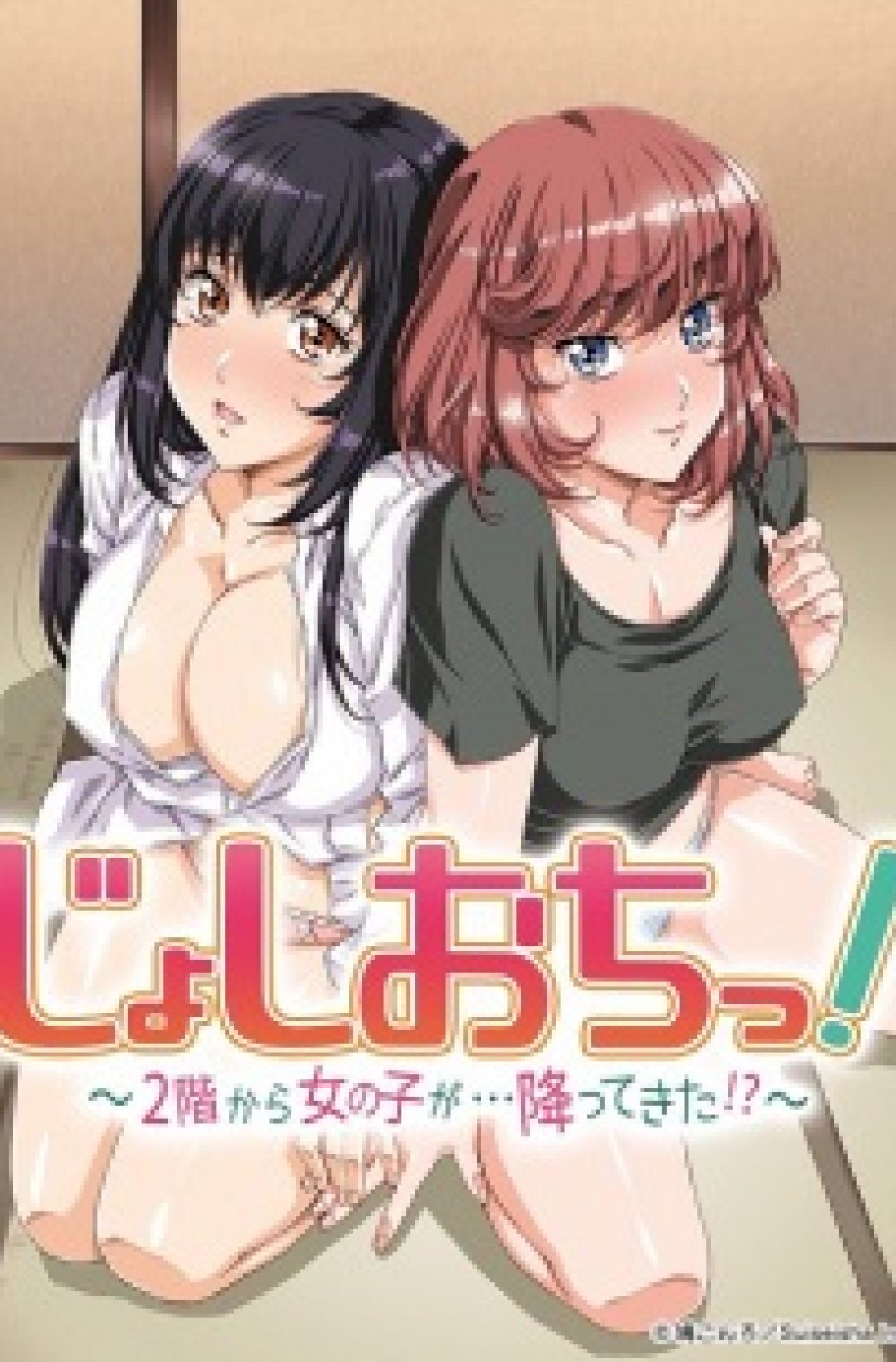 Joshiochi!: 2-kai kara Onnanoko ga… Futtekita!?
Joshiochi , Joshiochi!: 2-kai kara Onnanoko ga... Futtekita!?
Summary
Sōsuke Aikawa a young single man who lives in a rundown apartment manage by a beautiful manager, Yuki Shimizu, he lives his life as a carefree freeter, until one day his life took a turn when upon hearing a  creaking sound from his ceiling, a beautiful girl named, Sunao Uunyū, literally dropped from the ceiling of her 2nd floor , from there on Sōsuke's raunchy life begins as Sunao Uunyū and Shimizu Yuki starts to live with him, in his own room.
The ceiling collapsed and a girl fell through from the second floor!?
In an erotic encounter that can only be classified as a miracle, hearts and bodies are connected by chance. Then for some reason, he starts to live with both of these beautiful women!? Under this one roof, just what exactly will become of this crowded love triangle…!?
A short hentai anime that was taken from an adult manga of Konro Hato. It aired on July 2, 2018 and it ended on August 27, 2018.
Uncut , Uncensored Version here
Joshiochi!: 2-kai kara Onnanoko ga… Futtekita!? anime, Watch Joshiochi!: 2-kai kara Onnanoko ga… Futtekita!?, Watch Joshiochi!: 2-kai kara Onnanoko ga… Futtekita!? Online, Watch Joshiochi!: 2-kai kara Onnanoko ga… Futtekita!? English Sub, Download Joshiochi!: 2-kai kara Onnanoko ga… Futtekita!? English Sub, Stream Joshiochi!: 2-kai kara Onnanoko ga… Futtekita!?, Joshiochi!: 2-kai kara Onnanoko ga… Futtekita!? English Sub, Joshiochi!: 2-kai kara Onnanoko ga… Futtekita!? Episode 1 , Joshiochi!: 2-kai kara Onnanoko ga… Futtekita!? Anime Free English Sub, Watch Joshiochi!: 2-kai kara Onnanoko ga… Futtekita!? Ep 1 ,Watch Joshiochi!: 2-kai kara Onnanoko ga… Futtekita!?, Watch Joshiochi!: 2-kai kara Onnanoko ga… Futtekita!? 9anime, Watch Joshiochi!: 2-kai kara Onnanoko ga… Futtekita!? gogoanime, Watch Joshiochi!: 2-kai kara Onnanoko ga… Futtekita!? otakustream, Watch Joshiochi!: 2-kai kara Onnanoko ga… Futtekita!? kissanime,