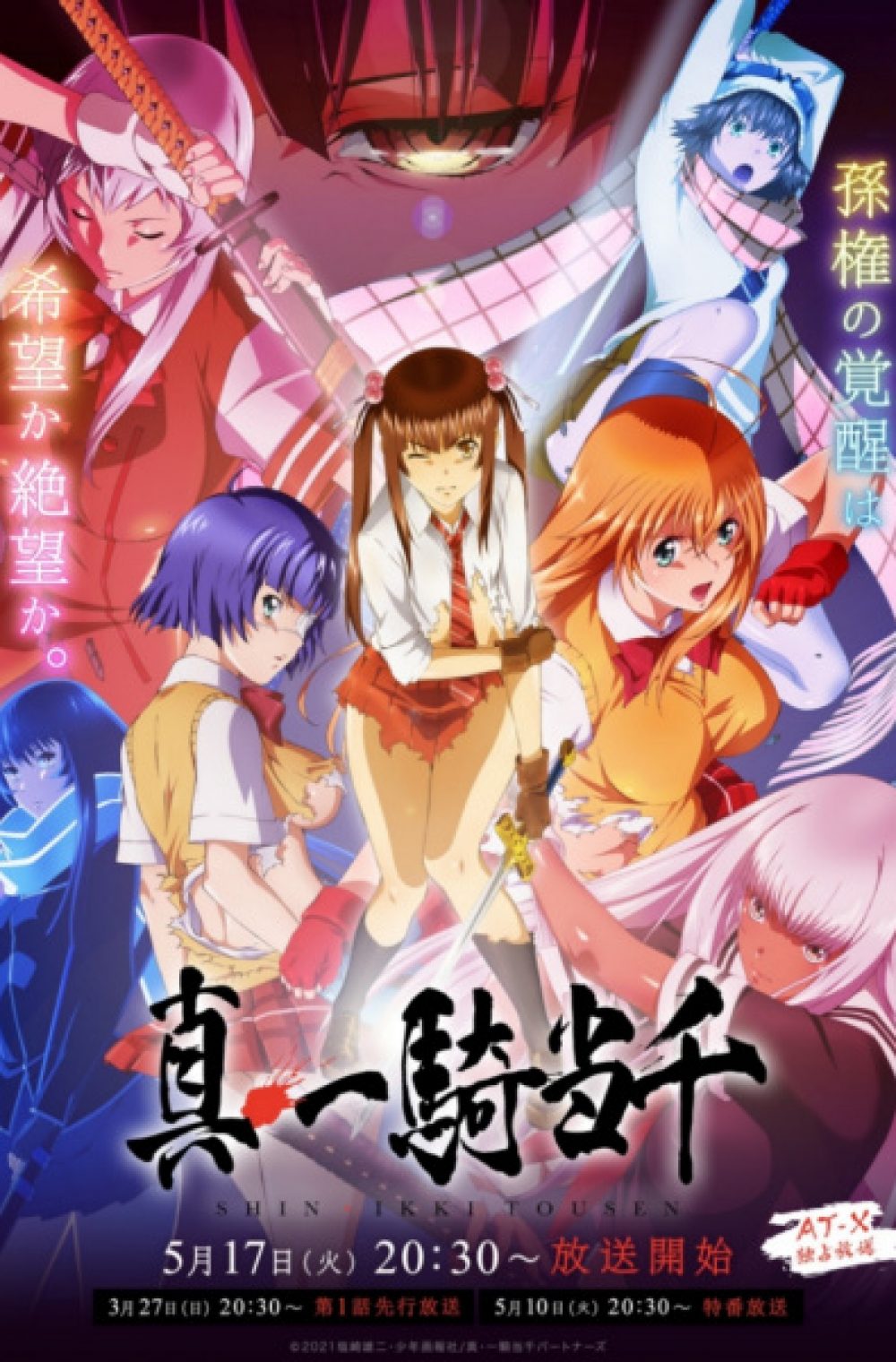 (UNCENSORED) Shin Ikkitousen
New Battle Vixens, Dragon Girls, Ikki Tousen
Summary
Himiko, the Kansai region's mightiest warrior, is coming for Kanto!
"Magatama" are earrings that are sacred beads containing the essence of great heroes who fought during the Three Kingdoms period in ancient China, and were scattered with the hopes of unifying the country. Those who inherited these sacred beads are warriors called "Toshi," who are now waging battles in modern-day Japan. At long last, signs indicating the end of the power struggle in the Kanto region are starting to be seen. However, Himiko from the Yamashiro Academy, which rules over the Kansai region, sets her Magatama hunting plan into motion and heads to Kanto to strip the Toshi of their sacred beads.
Meanwhile in the Kanto region, a new Toshi named Chubo Sonken transfers to Nanyo Academy. Due to the absence of Hakufu Sonsaku, the head of Nanyo, Chubo undergoes her school initiation from her classmates. At the same time, Himiko sends assassins Asaemon Yamada and Indara to invade the school, spelling certain death for Chubo and the other Toshi. Is there some hidden reason why Chubo is being targeted so relentlessly?
While this is happening, Hakufu is guided to the Toshi legendary training ground. However, the gate to the spirit world there has already opened, and it's become hell itself, where the dead are pouring out. And underneath, Shimei Ryomo awakens.
A new chapter begins where everyone's thoughts and feelings, whether it be for the sake of family or leaders, converge!
Tags: Shin Ikkitousen Uncensored anime, Watch Shin Ikkitousen Uncensored, Watch Shin Ikkitousen Uncensored Online, Watch Shin Ikkitousen Uncensored English Sub, Download Shin Ikkitousen Uncensored English Sub, Stream Shin Ikkitousen Uncensored, Shin Ikkitousen Uncensored English Sub, Shin Ikkitousen Uncensored Episode 1 English Sub, Shin Ikkitousen Uncensored Anime Free English Sub, Shin Ikkitousen Uncensored Ep 1 English Sub, Shin Ikkitousen Uncensored Ep 2 English Sub, Shin Ikkitousen Uncensored Episode 2 English Sub, Shin Ikkitousen Uncensored Bluray English Sub, Shin Ikkitousen Uncensored BD English Sub