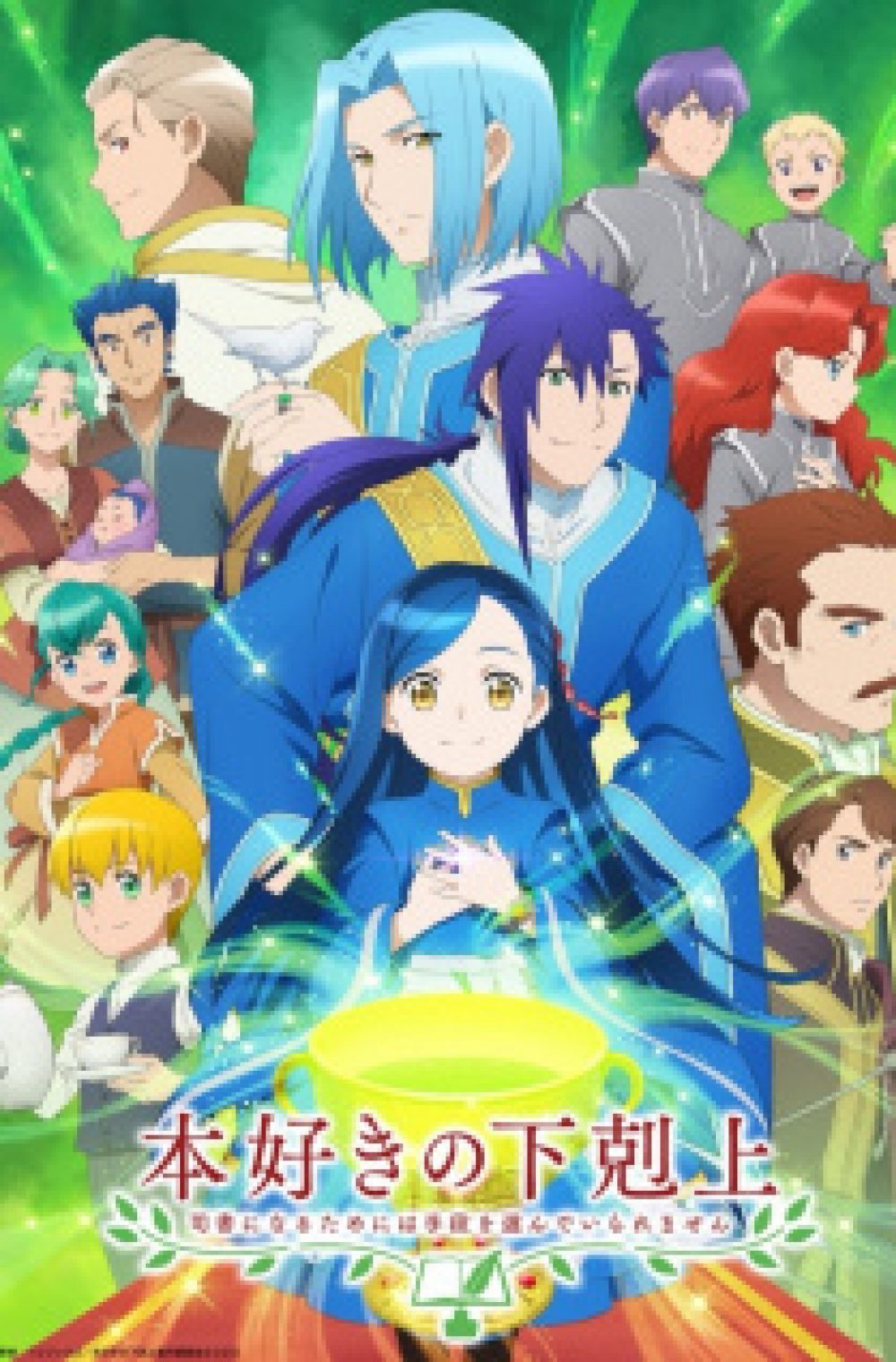 Honzuki no Gekokujou S3 – Ascendance of a Bookworm 3rd Season
Honzuki no Gekokujou: Shisho ni Naru Tame ni wa Shudan wo Erandeiraremasen 3rd Season , Ascendance of a Bookworm 3 , Ascendance of a Bookworm 3rd Season , Ascendance of a Bookworm 3rd Season , 本好きの下剋上 ~司書になるためには手段を選んでいられません~ , Honzuki no Gekokujou S3 , Ascendance of a Bookworm Season 3
Summary
Third season of Honzuki no Gekokujou: Shisho ni Naru Tame ni wa Shudan wo Erandeiraremasen.
To a world where everyone can read books!
Myne has become a blue shrine maiden apprentice, and together with Lutz, Turi, and the other children from the orphanage, they make picture books of sacred texts. Myne's passion for books only grows. She gives Johann and Heidi the title of Gutenburg, and as for their next goal, they aim to build a printing press.
However, a dark cloud looms over Myne's path. Nobles who find value in the powerful magic and mysterious knowledge that Myne possesses, and other nobles who have a grudge against her, are secretly targeting her.
Myne gets a knight assigned to her to keep her safe, and Ferdinand orders her to become a foster child of the nobleman, Karstedt. Although Ferdinand gave the order to protect Myne, she is unable to accept it, as she does not want to be separated from her loving family.
Amidst everything, there is a new addition to Myne's family. Effa gives birth to Kamil and Myne is now an older sister. And at the temple, a child with "the Devouring" is abandoned at its gates. It is given the name Dirk and raised there. Delia, one of the attendants at the temple and a gray shrine maiden apprentice, comes to love Dirk as if he were her own brother.
While the things Myne wants to protect keep growing in number, those who are targeting her from the shadows are nearly upon her. What is she to do and what will become of her?!
The Ascendance of a Bookworm Season 3 anime will have a new staff although most of the main staff is returning.
Director Mitsuru Hongo (World Trigger) helmed the project with the help of Assistant Director Yoshiki Kawasaki (episode director for Monster Hunter Stories: RIDE ON). Writer Mariko Kunisawa handled the anime's scripts.
Yoshiaki Yanagida and Toshihisa Kaiya are the character designers. In the past, they were both credited as chief animation directors. For the third season, the chief animation directors will be Noriko Otake and Emiko Endo. A third character designer, Haruka Matsunae, is also joining the staff.
Related Anime
Prequel: Honzuki no Gekokujou: Shisho ni Naru Tame ni wa Shudan wo Erandeiraremasen 2nd Season
Tags: Honzuki no Gekokujou S3 – Ascendance of a Bookworm 3rd Season anime, Watch Honzuki no Gekokujou S3 – Ascendance of a Bookworm 3rd Season, Watch Honzuki no Gekokujou S3 – Ascendance of a Bookworm 3rd Season Online, Watch Honzuki no Gekokujou S3 – Ascendance of a Bookworm 3rd Season English Sub, Download Honzuki no Gekokujou S3 – Ascendance of a Bookworm 3rd Season English Sub, Stream Honzuki no Gekokujou S3 – Ascendance of a Bookworm 3rd Season, Honzuki no Gekokujou S3 – Ascendance of a Bookworm 3rd Season English Sub, Honzuki no Gekokujou S3 – Ascendance of a Bookworm 3rd Season Episode 1 English Sub, Watch Honzuki no Gekokujou S3 – Ascendance of a Bookworm 3rd Season anime