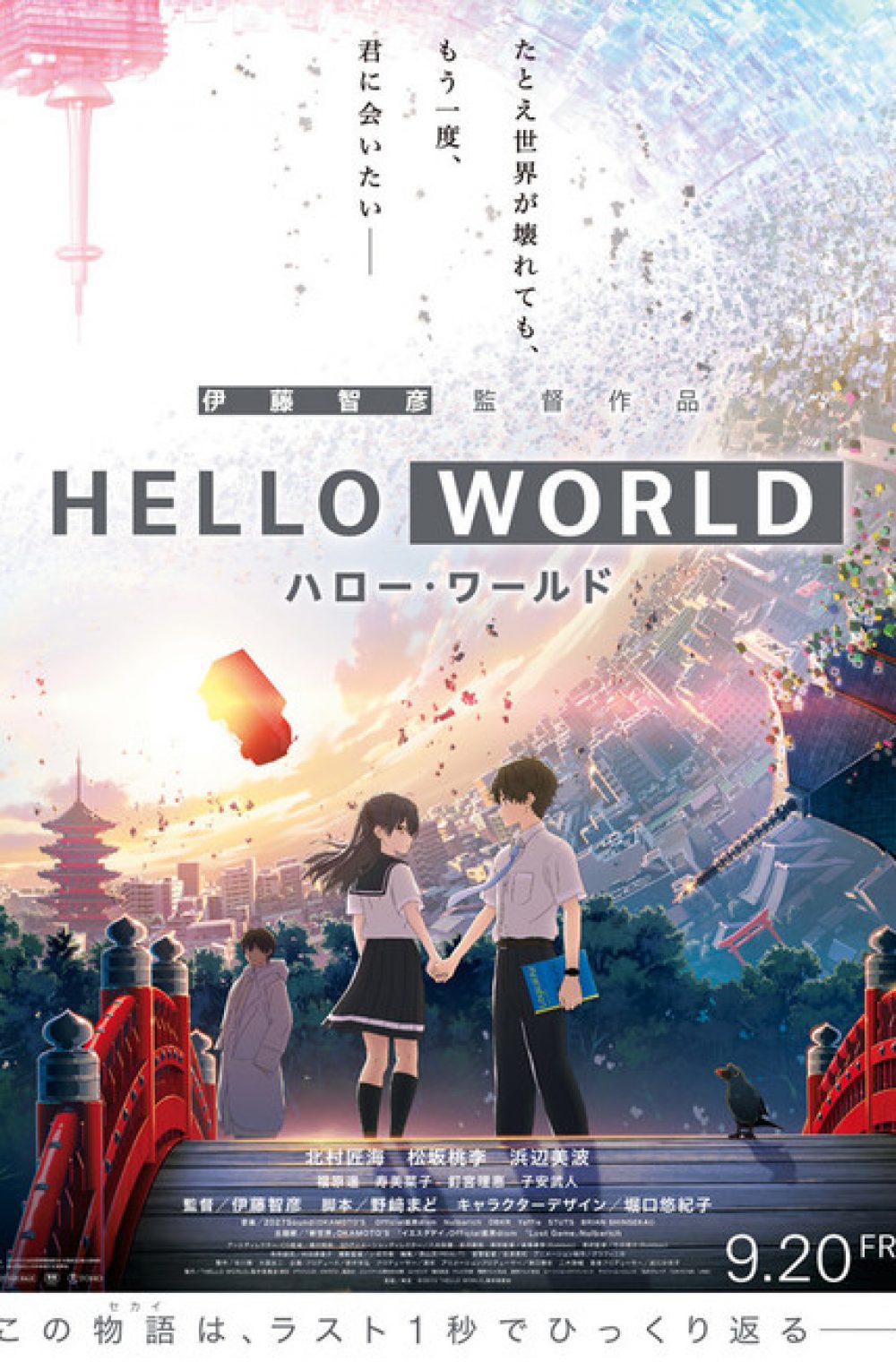 HELLO WORLD
HELLO WORLD , ハロー・ワールド
Rating
Summary
The year is 2027, and the city of Kyoto has undergone tremendous technological advancement. Within the city lives Naomi Katagaki, a socially awkward and introverted boy with a love for books, and Ruri Ichigyou, a girl with a cold personality who is often blunt with people, but shares his love for reading. Despite having similar interests, Naomi is afraid to approach Ruri due to her unfriendly nature.
One day, as Naomi goes out for a walk, a crimson aurora pierces through the sky for a brief moment before vanishing. Shortly after, he sees a three-legged crow and a mysterious hooded man who reveals himself to be Naomi from 10 years in the future, explaining that he has come to change an imminent tragic event that happens to Ruri shortly after they start dating. Initially taking his words with a grain of salt, present-day Naomi follows his future self's instructions and starts getting closer to Ruri, determined to save her.
Hello World focuses on the present Naomi alongside himself from 10 years into the future. With the help of his future self, Naomi begins his preparations to save Ruri. Will he be able to change the future?
After not being tapped to work on SAO Season 3, it appears that the director for Sword Art Online 1 & 2 has his own ambitions in the works. Today it was announced that TOmohiko Itou will be working on an original anime titled "HELLO WORLD". The story is rumored to be geared towards fans of the Sci-fi genre while being mixed with elements of Romance.
Some staff have also been confirmed. The scriptwriter for Seikaisuru KADO, Mado Nozaki, will join the project as the scriptwriter here. Yukiko Horiguchi who worked on character design for Lucky Star, K-On!, and Tamago Love Story, will also design characters for "HELLO WORLD."
Finally, the series will be animated by Graphinica. The studio has worked on the popular movie, Rakuen Tsuihou -Expelled from Paradise-, as well as the Love Live! The School Idol Movie and recently, the new Eureka Seven movie, ANEMONE.
Hello World (stylized as HELLO WORLD) is an upcoming Japanese animated film directed by Tomohiko Itō and produced by Graphinica. This will serve as Tomohiko's first animation work since his previous film Sword Art Online The Movie: Ordinal Scale released in 2017. The film will be released in Japan on September 20, 2019, starring Takumi Kitamura, Tôri Matsuzaka, and Minami Hamabe.
Related Anime
Spin-off: Another World
TAGS : HELLO WORLD anime, Watch HELLO WORLD, Watch HELLO WORLD Online, Watch HELLO WORLD English Sub, Download HELLO WORLD English Sub, Stream HELLO WORLD, HELLO WORLD English Sub,  HELLO WORLD Anime Free English Sub, Watch HELLO WORLD Movie, Watch HELLO WORLD anime, Watch HELLO WORLD Crunchyroll, Watch HELLO WORLD 9anime, Watch HELLO WORLD gogoanime, Watch HELLO WORLD otakustream, Watch HELLO WORLD Movie anime, Watch HELLO WORLD funimation, Watch HELLO WORLD kissanime, Watch HELLO WORLD kickassanime, HELLO WORLD