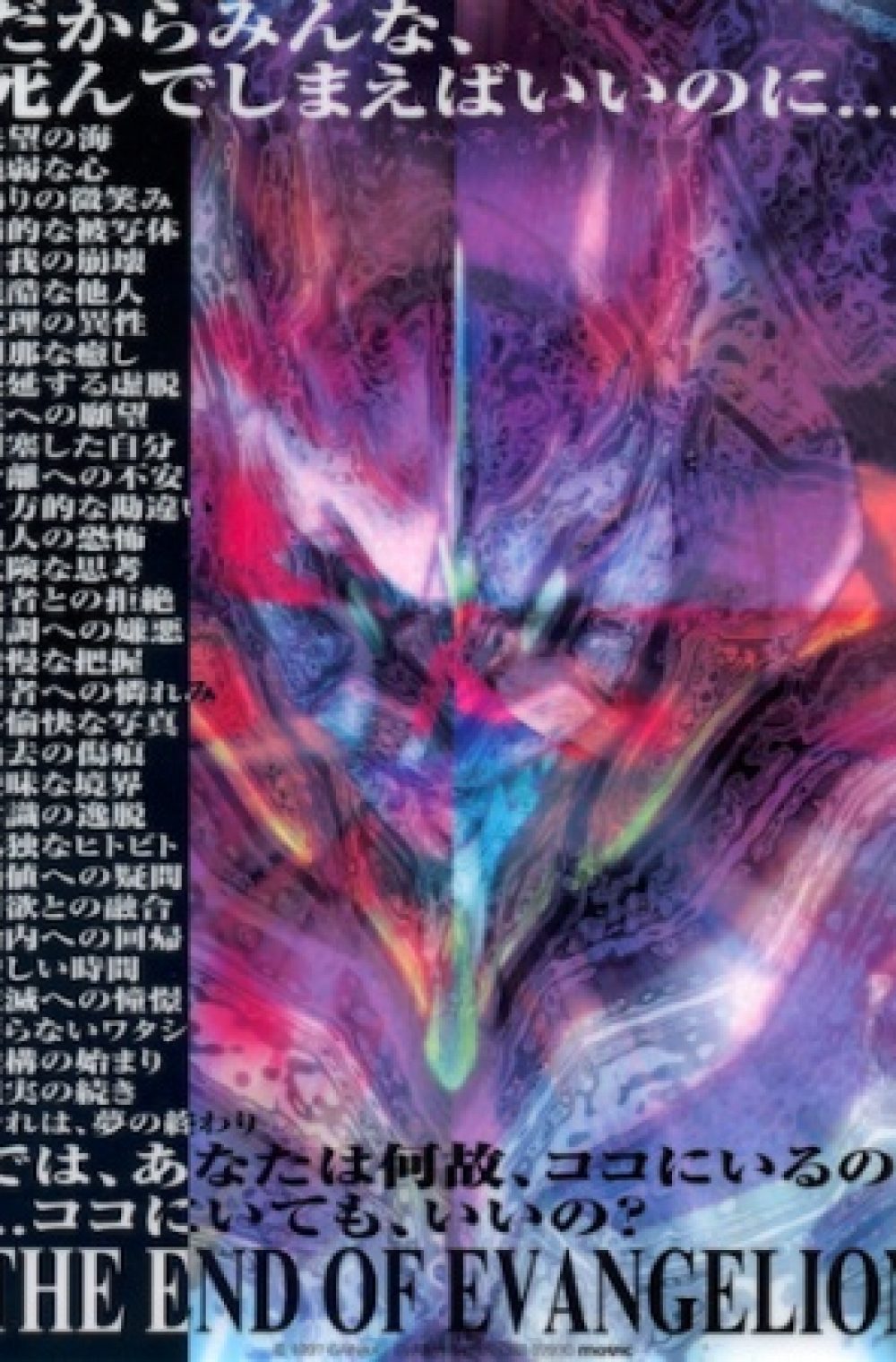 Neon Genesis Evangelion: The End of Evangelion
Neon Genesis Evangelion: The End of Evangelion
Summary
With the final Angel vanquished, Nerv has one last enemy left to face—the humans under Seele's command.
Left in a deep depression nearing the end of the original series, an indecisive Shinji Ikari struggles with the ultimatum presented to him: to completely accept mankind's existence, or renounce humanity's individuality. Meanwhile, at the core of a compromised Nerv, Gendou Ikari and Rei Ayanami approach Lilith in an attempt to realize their own ideals concerning the future of the world.
The End of Evangelion serves as an alternate ending to the polarizing final episodes of Neon Genesis Evangelion. With the fate of the universe hanging in the balance, the climactic final battle draws near.
Shinseiki Evangelion Gekijouban: The End of Evangelion is an alternate version of the series ending, which either supplements or replaces episodes 25 and 26, depending on how they are viewed.
The movie was awarded the Animage Anime Grand Prix prize for 1997, the Japan Academy Prize for Biggest Public Sensation of the Year, and Special Audience Choice Award by the 1997 Animation Kobe.
Related Anime
Prequel: Neon Genesis Evangelion
Tags: Neon Genesis Evangelion The End of Evangelion anime, Watch Neon Genesis Evangelion The End of Evangelion, Watch Neon Genesis Evangelion The End of Evangelion Online, Watch Neon Genesis Evangelion The End of Evangelion English Sub, Download Neon Genesis Evangelion The End of Evangelion English Sub, Stream Neon Genesis Evangelion The End of Evangelion, Neon Genesis Evangelion The End of Evangelion English Sub, Neon Genesis Evangelion The End of Evangelion Episode 1 English Sub, Neon Genesis Evangelion The End of Evangelion Anime Free English Sub, Watch Neon Genesis Evangelion The End of Evangelion Ep 1 English Sub, Watch Neon Genesis Evangelion The End of Evangelion kissanime, Shinseiki Evangelion Gekijouban The End of Evangelion anime, Watch Shinseiki Evangelion Gekijouban The End of Evangelion, Watch Shinseiki Evangelion Gekijouban The End of Evangelion Online, Watch Shinseiki Evangelion Gekijouban The End of Evangelion English Sub, Download Shinseiki Evangelion Gekijouban The End of Evangelion English Sub, Stream Shinseiki Evangelion Gekijouban The End of Evangelion, Shinseiki Evangelion Gekijouban The End of Evangelion English Sub, Shinseiki Evangelion Gekijouban The End of Evangelion Episode 1 English Sub, Shinseiki Evangelion Gekijouban The End of Evangelion Anime Free English Sub, Watch Shinseiki Evangelion Gekijouban The End of Evangelion Ep 1 English Sub,  Watch Shinseiki Evangelion Gekijouban The End of Evangelion kissanime