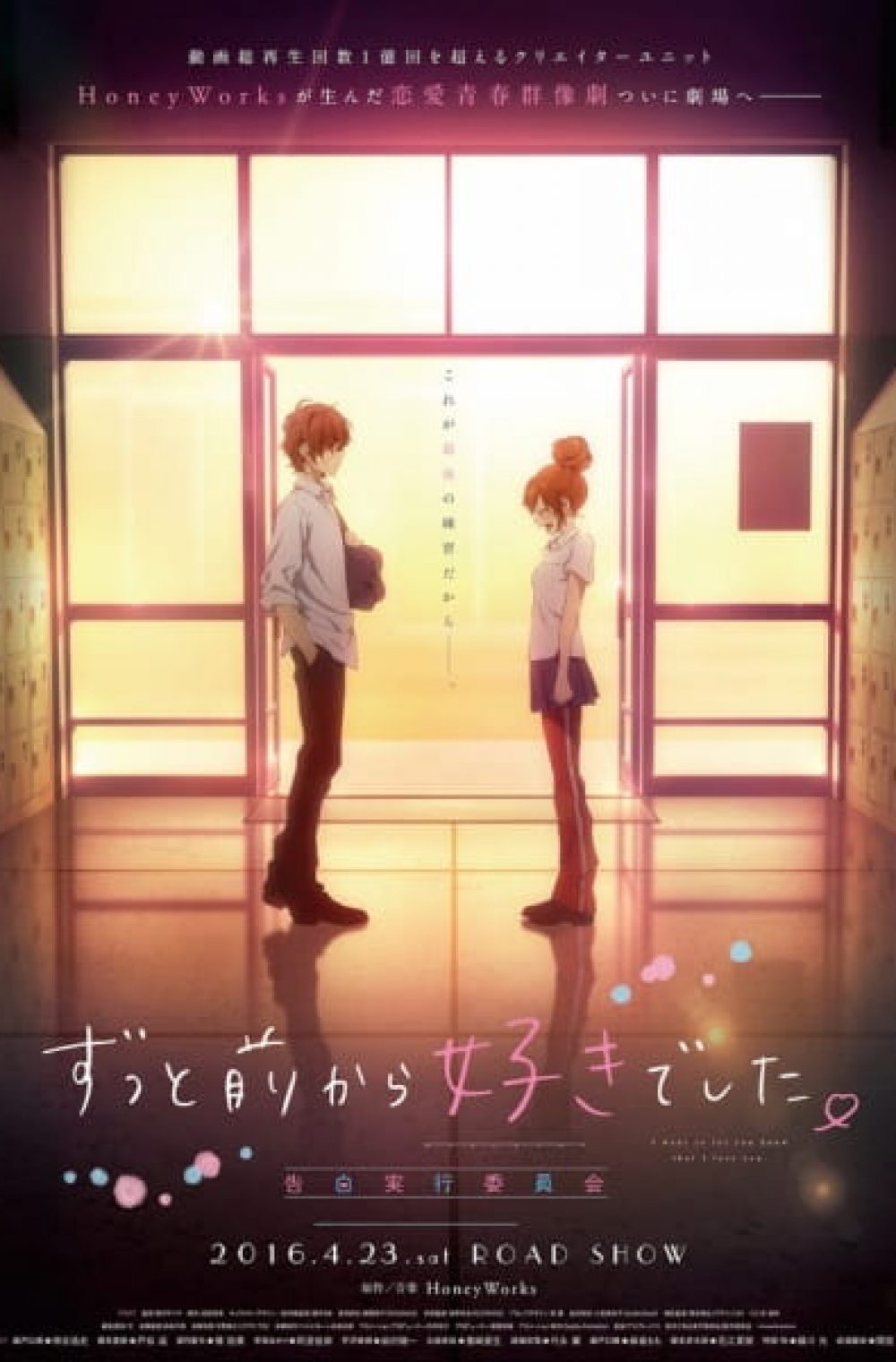 Summary
Included Side story: Zutto Mae kara Suki deshita.: Kokuhaku Jikkou Iinkai – Kinyoubi no Ohayou.
Love is blooming at Sakuragaoka High School. Natsuki Enomoto has finally mustered the courage to confess to her childhood friend, Yuu Setoguchi. However, in the final moments of her confession, an embarrassed Natsuki passes it off as a "practice confession." Oblivious to her true feelings and struggling with his own, Yuu promises to support Natsuki in her quest for love. While Natsuki deals with her failed confession, fellow classmate Koyuki Ayase struggles with his own feelings for Natsuki. Despite his timidness, he is determined to win over her heart.
Zutto Mae Kara Suki deshita.: Kokuhaku Jikkou Iinkai follows Natsuki as she dreams of one day ending her practices and genuinely confessing to Yuu. Meanwhile, close friends also find themselves entangled in their own webs of unrequited love and unspoken affections.
Zutto Mae Kara Suki deshita.: Kokuhaku Jikkou Iinkai is adaptation of music and animation series featuring various seiyuu Kokuhaku Jikkou Iinkai: Renai Series, created by HoneyWorks.
Related Anime
Sequel: Suki ni Naru Sono Shunkan wo.: Kokuhaku Jikkou Iinkai
Other: Itsudatte Bokura no Koi wa 10 cm Datta., Tokyo Autumn Session
Side story: Zutto Mae kara Suki deshita.: Kokuhaku Jikkou Iinkai – Kinyoubi no Ohayou
Tags: I've Always Liked You – Zutto Mae kara Suki deshita: Kokuhaku Jikkou Iinkai anime, Watch I've Always Liked You – Zutto Mae kara Suki deshita: Kokuhaku Jikkou Iinkai, Watch I've Always Liked You – Zutto Mae kara Suki deshita: Kokuhaku Jikkou Iinkai Online, Watch I've Always Liked You – Zutto Mae kara Suki deshita: Kokuhaku Jikkou Iinkai English Sub, Download I've Always Liked You – Zutto Mae kara Suki deshita: Kokuhaku Jikkou Iinkai English Sub, Stream I've Always Liked You – Zutto Mae kara Suki deshita: Kokuhaku Jikkou Iinkai, I've Always Liked You – Zutto Mae kara Suki deshita: Kokuhaku Jikkou Iinkai English Sub, I've Always Liked You – Zutto Mae kara Suki deshita: Kokuhaku Jikkou Iinkai Episode 1 English Sub, I've Always Liked You – Zutto Mae kara Suki deshita: Kokuhaku Jikkou Iinkai Anime Free English Sub, I've Always Liked You – Zutto Mae kara Suki deshita: Kokuhaku Jikkou Iinkai Ep 1 English Sub, I've Always Liked You – Zutto Mae kara Suki deshita: Kokuhaku Jikkou Iinkai Ep 2 English Sub, I've Always Liked You – Zutto Mae kara Suki deshita: Kokuhaku Jikkou Iinkai Episode 2 English Sub, I've Always Liked You – Zutto Mae kara Suki deshita: Kokuhaku Jikkou Iinkai Bluray English Sub, I've Always Liked You – Zutto Mae kara Suki deshita: Kokuhaku Jikkou Iinkai BD English Sub